Quality accommodation on a working farm:
Come and discover the best Farmhouse Bed & Breakfast (B&B) accommodation and Self Catering cottages in Robin Hood Country, Nottinghamshire. Taste a delicious farmhouse breakfast and sample local fine foods.
Enjoy exploring Nottingham, famous for lace, the Trent Bridge cricket ground, caves, nightlife, Castle and much more. Discover Nottinghamshire's Sherwood Forest, Robin Hood, the Pilgrim Fathers Trail, Clumber, the largest park in Europe and seat of the Dukeries, the oldest cave paintings in Europe, pretty villages with historic churches, traditional market towns, walks and gardens.
We can offer holiday cottage rental, weekend accommodation, short-breaks or vacation in bed and breakfast accommodation, guesthouse, country house, villa or self-catering cottage accommodation with Nottinghamshire hospitality. Enjoy log fires and traditional home cooking with quality local Nottinghamshire produce. Many of our properties have wireless broadband access and email facilities for your convenience.
Our farms offer a range of activities on or nearby including woodland and farm walks, hiking,
horse riding, golf, cycling, shooting, fishing, and bird watching. Stay on a farm during lambing, hay making and harvest.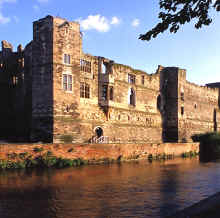 For a UK holiday or business visit this is tourism in England at its best, peace and quiet in the countryside on a Nottinghamshire Farm Stay property.